Green Solutions for Commercial & Residential Buildings 20,000 - 100,000 Sq. Ft.
Advanced Climate Technologies manufactures high-efficiency wood pellet and wood chip boilers for commercial, institutional multi-family residential buildings. ACT Bioenergy Boilers have been specifically designed to optimize customer convenience and ease-of-use.
Clean Green Heat Making a Difference
Our proven state-of-the-art commercial-scale biomass (wood chip and wood pellet) boilers feature numerous user-friendly features including: automated fuel and air modulation, ash removal and remote monitoring capability. ACT Bioenergy Boilers™ are manufactured in the USA and are American Society of Mechanical Engineers (ASME) certified.
Recent News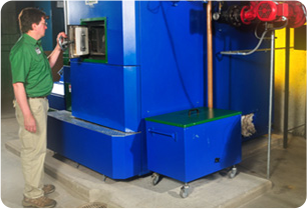 Switch to Save
The ACT Bioenergy Boiler™ uses less expensive wood fuel sources, potentially cutting your fuel costs in half. Save up to 50 percent on heating costs versus heating with gas or oil..
Lower emissions
Reduce global warming by using biomass fuel in a system with extremely low emissions. Support economic development by buying readily available wood chips and pellets provided and processed by local companies.